Residential and Hospitality Services has space held for isolation and quarantine housing for on-campus residents, should students need it this fall.
While the thought of students needing to self-isolate or self-quarantine may seem alarming, it is imperative that we support students that may contract COVID-19.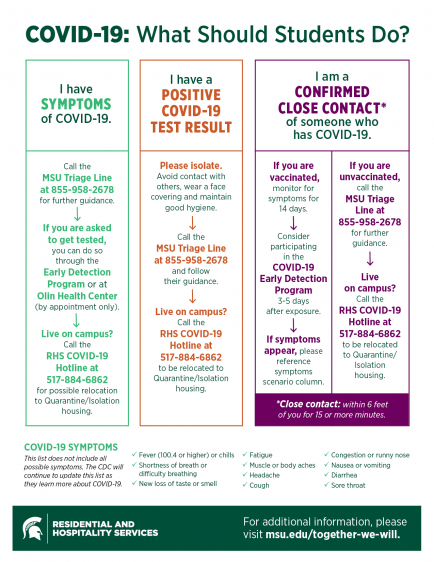 What is Isolation Housing?
Isolation Housing is used to keep someone who is experiencing symptoms of COVID-19, or has tested positive for COVID-19 without symptoms, away from others. MSU will encourage on-campus residents to return to their permanent home to isolate, to isolate in their private room that includes a private bathroom, or to use separate university isolation housing.
Students in isolation housing will be expected to stay mainly in their room for the duration of their stay, outside of collecting essential supplies or attending to medical needs. Contact with others will be extremely limited and potentially distressing, so we encourage students to take care of themselves by engaging with others virtually and practicing physical activity within the unit.
Students feeling ill or who have tested positive for COVID-19 need to contact MSU's COVID-19 Triage Hotline (6 a.m. to 6 p.m. daily) at 855-958-2678. If an on-campus student tests positive for COVID-19, they will also call the RHS COVID-19 Response Hotline at 517-884-6862 (9 a.m. to 6 p.m. daily) so we can provide additional support.
What is Quarantine Housing?
Quarantine Housing is used to keep an unvaccinated student who has come into close contact with someone who has COVID-19 away from others, for students arriving to campus from high-risk out-of-state or international areas, and as recommended by health professionals. Since quarantining will be recommended based on travel or when someone learns they have been in close contact or exposed to someone with COVID-19, it is possible that some students may find themselves needing to quarantine more than once. 
Student Expectations for Isolation Housing:
Students will follow all orders from MSU Triage, Office of the University Physician and the Ingham County Health Department, including the length of isolation and when it is deemed safe to return to regular housing and day-to-day schedules.

Students may not leave the living wing and should stay in their rooms as much as possible. Students must continue to practice social distancing and wear face coverings when outside of their room for any amount of time. Guests are not permitted in rooms during isolation or quarantine.

Meals will be delivered daily to students' rooms. Students must submit their online order form the day prior.

Students will be double bag their trash and take it to the appropriate trash chute. They can use the service request process if they need additional trash bags.

Students will self-monitor symptoms for 14 days.

Students remain responsible for communicating with medical personnel, the health department, professors, family members, etc.
Can I leave isolation and/or quarantine housing if I feel better or test negative?
Everyone experiences COVID-19 differently, and it can spread whether symptomatic or not. Students need to follow directions from MSU's COVID-19 Triage Hotline on when they can leave isolation or quarantine and return to campus activities. 
Quarantine Guidance After Travel:
Per the current Ingham County Health Department guidance, students are strongly urged to self-quarantine for 10-14 days if they return to campus from high-risk areas. Please learn more on the Office of International Health and Safety website. 
Our team members are working around the clock with university, state and local officials to develop a plan that adheres to the guidelines set forth by our public health officials. It is critically important to MSU that as we plan for a return of students to campus that we make available these isolation and quarantine rooms to help mitigate risk to others and provide a safe place for students who test positive to recover without further compromising the health of others.