Residence Education and Housing Services believes students' on-campus living experience plays a crucial role in their success at Michigan State University. With this in mind, the Residential Learning Model (RLM) was created with the goal of aiding resident assistants (RAs) in strategic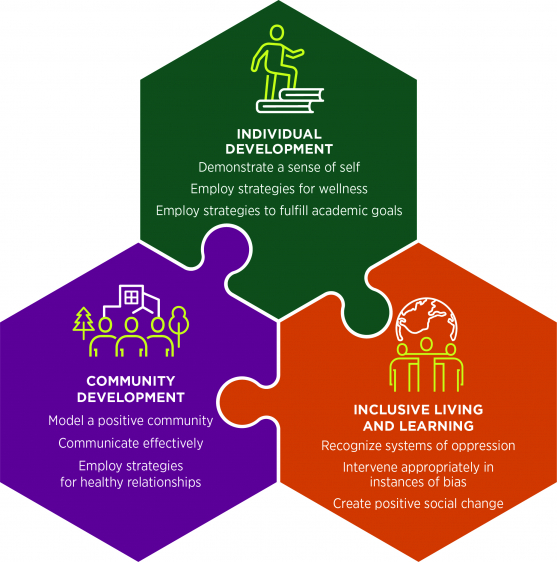 ally facilitating learning and growth to their students, ultimately contributing to the students' overall Spartan experience.
Our belief and intention is that as a result of living and learning on campus at MSU, students will become leaders who positively impact the world. In developing practices focused on this belief, the RLM incorporates concepts from the Division of Student Life and Engagement's mission as well as MSU's strategic framework, and is grounded in theory.
The RLM learning goals are Individual Development, Community Development and Inclusive Living and Learning. Each of these goals contains three learning outcomes for students to work through with the support of their Residence Education staff.
Community directors (CDs) work with their RAs and hall team members to create monthly learning plans that meet the specific needs of each RA and their community. The CD provides guidance on what may be needed by looking at data from their building. Active strategies like events or passive strategies like bulletin boards may be used to support learning plans. In addition, RAs complete one-on-one conversations with each resident. During these interactions, they ask the student about academic goals. All strategies are assessed to provide more information about future needs for learning outcomes.