Residential Conduct Process
The below information outlines the process initiated when an incident is documented for an alleged policy violation while living on campus.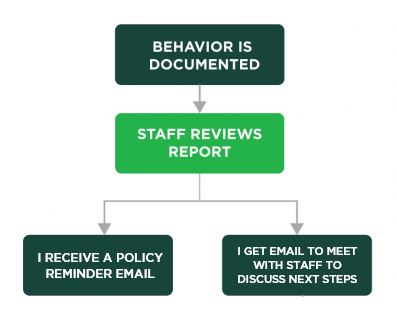 Definitions
Incident Documented:
In order to maintain a safe and secure living environment, multiple levels of staff (resident assistants, assistant community directors and community directors) document behavior observed that may violate policy. The documentation is called an incident report (IR).
Staff Reviews Report
There are staff within Residence Education and Housing Services who review incident reports each business day to determine next steps. Depending on the type of behavior documented and a students' documented history, staff can send a policy reminder email or send an email inviting the student to a meeting.
Policy Reminder Email
A student may receive a policy reminder letter via email that discusses the documented behavior and educates students on university policies.
I Meet with Staff
This meeting is an opportunity for a student to share their perspective on what might have happened, discuss community rights and responsibilities, and learn about possible next steps. Additionally, the meeting is an opportunity to connect with a Residence Education and Housing Services (REHS) staff member to discuss a student's on-campus living experience and learn about various campus resources.
Important Consideration:
Please remember that the university's conduct process is separate from any legal proceedings.
Meet the Student Conduct Team 
The Residential Student Conduct Team consists of two professional staff members who oversee, support and provide training on the in-hall conduct system. 
The Residential Student Conduct Team create and implement training for undergraduate, graduate and professional residence hall staff and partner with university offices to promote student learning in an educational student conduct process. Both members of the team are supportive of restorative principles, working to create systems and structures that support students' learning and discussing issues to repair harm.
Contact the Residential Student Conduct Team at rsc@rhs.msu.edu if you have questions or concerns.  
Additional Resources 
For more information on student rights and responsibilities, please see the below resources:
Michigan State University Police Department (MSUPD)
Resource Center for Persons with Disabilities (RCPD)
Office for Institutional Equity (OIE)
Counseling and Psychological Services (CAPS)